With its natural beauty and warm hospitality, Jordan makes for an unforgettable destination. A week is never enough to enjoy all of its wonders, yet this itinerary will show you some of the best.
3 Reasons to go
Ancient old architecture – From the rose-red city of Petra to the ruins of Jerash. If you are looking for stunning architecture thousands of years old, look no further.
Something for everyone – Food lovers, outdoor adventurers, photography geeks or history buffs. There is something for everyone to explore in Jordan.
It's safe – Jordan remains a beacon of stability amid the turmoil of the Middle East. There is no reason to worry about your safety.
Destinations
Destination A: Amman
The capital city has a chaotic but vibrant downtown area and several neighbourhoods offering contrasting experiences. Perhaps due to a difficult public transport system, travellers often underrate this city.
Destination B: Jerash
Located only an hour north of Amman, the well-preserved ruins of Jerash are a striking example of Roman civilisation. Whereas in Europe it would attract thousands of visitors per day, here you will find the place much more to yourself.
Destination C: Dead Sea
At 400 meters below sea level, the Dead Sea is the lowest point on earth. Being ten times as salty as the ocean, the only organisms able to survive there are floating tourists reading news papers.
Destination D: Wadi Musa / Petra
The ancient old rose-red city of Petra (next to Wadi Musa city) covers a vast area and is carved out entirely from red-coloured rocks. As one of the newly declared seven world wonders it's the most important attraction in Jordan.
Destination E: Wadi Rum
Inside the Wadi Rum protected area you can find landscapes that are out of this world. Resembling more of a moon landscape, the desert views are best appreciated while staying in a Bedouin camp.
Destination F: Aqaba
The only seaside city of Jordan is located on the Red Sea, offering great opportunities for snorkelling and diving. It gets more crowded over the weekend.
How to book your vacation?
If you enjoy organizing your own trips.
Start booking hotels:


Itinerary
Day 1: Arrive to the country's capital
Welcome to the Middle East! Make sure to download the free offline map for Jordan on the app MAPS.ME for easy (GPS) navigation, it might come in handy!
Use the first evening to go for a walk and eat around Rainbow Street (i.e. 'Abu Baker Al Seddeek'), the most western area in the capital. Book your accommodation in Amman for three nights.
Day 2: Exploring Amman and Jerash
In the morning check out the Amman Citadel (1 hour will do) and soak in the views over the city. Also include the Roman amphitheater, a stunning piece of well-preserved architecture (will take 1 hour as well).
Then around 11 AM head out to the north bus station, known as Tabarbour (location on Google Maps). It's possible to get there by public transport from downtown but it's not easy to get to grips with the system. If no local can help you, the only option is to find a taxi (15-20 minutes from downtown). From Tabarbour minibuses to Jerash leave when full until late afternoon and pass by the entrance to the Jerash ruins (JOD1, 1 hour). Ask someone in the bus to notify the driver, the entrance is 300 meters south of the visitors centre. You can spend a minimum of 2 hours at the site. Explore among others the colonnaded street, the oval forum, two stunning amphitheaters and secret hidden little places. Make sure to keep track of time and head back to Amman before 5PM or face difficulties finding a minibus.
When back in Amman, spend the evening in downtown strolling the busy streets and connecting with the locals. A good starting point is the market next to the Al-Husseini mosque.
Day 3: Trip to the Dead Sea
There are several ways to get to the Dead Sea, reserve at least an hour (probably two) to get there. You can arrange transportation with your accommodation, travel with public transport via Sowayma/Sweimeh (at the northern tip of the lake), rent a car or take a taxi. It's best to check the options once you are in Jordan since they are subject to change with the season.
Going by the reports of other travellers, the public areas are of inferior quality. To enjoy the Dead Sea the most you are most likely to bargain with some resorts for a day pass. Be prepared that it won't be cheap though. An economically acceptable option would be to go to Amman Beach resort, which lies south of the hotel area. If you're really on a tight budget, go to a free spot and bring loads of water bottles to shower off the salt.
Don't be late to return back to Amman as public services will shut down early.
Day 4: Petra day 1
Petra offers plenty to explore for a day or two. For your visit you will need to travel to Wadi Musa and arrange two nights of accommodation. Choose Jett Bus, which leaves daily from Amman at 6:30AM. It's more costly than public transport (JOD10, 4 hours) but the best option considering its early departure and reliable time schedule.
With the Jett bus you will arrive in Wadi Musa in time to visit Petra on the same day. There is a really cool lookout point high above the Treasury. I suggest going here on your first day. It should take you a total of 4-5 hours. To get to the lookout point you need to pass the Treasury, head even further into Petra and then follow a path around the Royal Tombs while keeping to the right. It's quite a hike and not easy to find, so ask for directions when in doubt. Do not miss out though! Return to Wadi Musa well before dark sets in.
To eat out in Wadi Musa, head away from the street that descends to the entrance of Petra. Personally I think it's better to look elsewhere (e.g. city center) for better prices and less touristy places.
Day 5: Petra day 2
The second day you could start the long trail towards the Monastery. Pack light and bring enough food, water, sunscreen and memory cards. On your way back you can also include the High Place of Sacrifice, which offers very good views over Petra city.
Day 6a: Aqaba
In the morning head to the main bus station in central Wadi Musa and take a public minibus to Aqaba (JOD5, 2 hours). There is no real schedule as they leave when full, which happens the quickest in the morning.
Aqaba is perfect to relax at the beach and to go snorkelling/diving in the Red Sea. There are some stunning spots and artificial reefs like an anti-aircraft tank. It's extremely difficult to find without a professional guide though since most people out there are no locals (it took me two days on my own).
Day 6b: Wadi Rum
If the temperature doesn't allow for a dip, you could also opt for one night in Wadi Rum in a Bedouin camp. It's not easily reached from Wadi Musa using public transport. You could take the same bus to Aqaba and get off at the crossroads to Wadi Rum (1.5JOD, 1 hour) and continue by hitchhiking (which is very easy). There is also a more costly option to arrange special tourist transportation from Wadi Musa.
While picking a Bedouin camp, make sure to book ahead with a reputable company. Without the possibility to negotiate, the experience is a bit overpriced. Nevertheless for most people it's an unforgettable experience. One night is enough.
Day 7: Aqaba (or Wadi Rum) & Amman
Once back in Amman don't miss restaurant Hashem in downtown to enjoy a royal meal (falafel, veggies, flat bread and humus). King Abdullah II regularly shows up here with his family, so you might get lucky and meet him!
Not far from Hashem is another famous place to eat kunafa (a warm sugar-soaked cheese pastry topped with nuts) at the famous Habibah Sweets. A must before you go home!
Day 8: Travel home
After a week packed with activities unfortunately you have to say goodbye to this wonderful country. Travel safe and don't forget to bring some souvenirs!
Tips & advice
Consider buying the Jordan Pass (incl. two days at Petra) and print it before you go. It will include the entrance for all attractions in this article and your visa. If you follow this itinerary, it will definitely save you money.
Expect transportation to be much more difficult to arrange on a Friday, which is the generally accepted day off in the Middle East.
It is possible to do Petra in one day. I did this myself, including the three hikes to the Treasury lookout point, the Monastery and the High Place of Sacrifice. This will take you 10-11 exhausting (!) hours total. It's much better though to take two days and split up the job. Three days will be too much considering there are other great places in Jordan to see in this limited amount of time.
Watch out for over-friendly locals. With tourism suffering from regional conflicts, some people in Jordan are desperate for income. Like in any touristy place, scamming is not uncommon. Especially solo female travellers should be mindful around Petra and Wadi Rum. There is a thriving industry around Bedouin romance scamming.
Prices in Jordan may change all the time and so you will find a lot of outdated info on the Internet. Always verify with the latest information when you are in the area itself.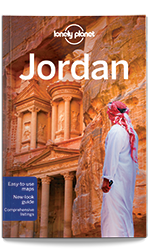 About the author
Bart is a Dutch independent adventure traveller fascinated by different cultures, places and people. From troubled regions and abandoned places, to countries that don't officially exist, his adventures have taken him off-the-beaten-path in 65+ countries. Bart is a strong believer that low-budget travel is fun, leads to more unique experiences and more meaningful interactions with the locals. Check out his website at offbeattravelling.com and follow him on:

Photo credit: Bart van Eijden