The Caribbean coast of Colombia has the perfect set up for a One Week Adventure. Within 8 days or so, you can combine city, mountain and sea, with an extremely reasonable travel time. But don't count on this trip to make you check Colombia off your bucket list and never return. Offering dozens of travel alternatives, this country is so charming that  you will certainly want to return sooner than expected.
3 Reasons to go
Variety. Colombia has so many different options to offer, you will be sure to find something that suits your interests. Ocean & sea, mountains, coffee plantations, ancient civilizations, wildlife (whale & bird watching), colonial architecture, world renowned museums, rainforest, surf spots, nightlife, you name it.
Timing. In the last decade Colombia has been expanding in international tourism and the number of arrivals keeps growing. With 2.98 million international tourists in 2015 (compared to 5.7 for Argentina or 32.1 for Mexico), Colombia is not a destination with too many tourists yet. Now is the time to go before it gets more crowded.
Safety. And what I mean here is that it is not more dangerous than other countries of the area like Peru, Bolivia or Chile. Sure, you will need to be careful and take all the possible precautions you usually would when traveling in South America, but the time of Pablo Escobar is long gone and the situation has been improving significantly in the recent years.
Destinations
Destination A: Cartagena
This gorgeous colonial city is a very convenient place to start a trip in Northern Colombia. The contrast between the old town and Bocagrande, the hip and trendy part of the city typically offers two opposite atmospheres.
Destination B: Minca and la Sierra Nevada de Santa Marta
Considered the world's highest coastal range with an altitude reaching 5,700m, these mountains can be easily explored from the village of Minca. One option is to spend the night in a family farm in the mountains and then go hiking at sunrise.
Destination C: Tayrona Park
This national park is home to some of the most beautiful beaches in Colombia and the Caribbeans area. Between the jungle and the clear water you might think you're on a desert island once you get a few metres away from the main beach. This is also the place you want to try sleeping in a hammock if you haven't done it before. Surprisingly, very comfortable.
How to book your vacation?
If you enjoy organizing your own trips.
Start booking hotels:

Itinerary
Day 1: travel & arrive in Cartagena
Land in CTG airport and set your camp at a hotel, hostel or B&B. Choosing to stay in Bocagrande is a nice way to enjoy this neighbourhood so you can check out the restaurants and bars at night.
Day 2: Cartagena – Old Town
One full day should leave you plenty of time to walk around in the colonial streets, visit the free (small) gold museum and taste some fresh street fruit juices.
Day 3: Continue to Minca 
First you have to head to Santa Marta with one of the many bus companies (choose a direct route) from one of the two bus terminals (the Berlinas company has a smaller terminal closer to the old town and Bocagrance, any taxi driver would know). The ride is roughly 4 hours and costs 36 000 COP. From there, you can take a cab to Minca which is another 45 minutes away (35-40 000 COP). A long trip, but well worth it.
In Minca you can either swim in the river, hike or even visit a coffee plantation if you allow at least half a day for it. You will find a few lodging options such as La Casa Loma that offer a great backpacker atmosphere with a stunning view point on the sunset (private double room: 65 000 COP).
Day 4: Explore the Mountains
Carlos, the owner of the local company Wi Make Tours, organizes hiking tours from his parents farm. If you want to experience what it's like to be in the middle of the mountains, this is the place. To reach it, you need one and a half hours by SUV then another hour and a half hiking. Just get in touch with him he can help you with setting up the transportation. Once you reach the farm, just spend the rest of the afternoon hanging out with the family which is a great way to spend some time locals and ask questions you may have about the Colombian culture.
Day 5: Sunrise Hike and head back to Minca
The farm offers a great viewpoint for sunrise, you can't sleep much longer with roosters and cows mooing outside your window anyway. A great natural alarm ! Then a trek to the top of mount Cierro Kennedy (2900m, while the farm is at around 1900m), an accessible hike that takes about 3 hours up. The top offers a great view on Los Picos Nevados (snow peaks) when the clouds are nice to you. Then back at the farm for lunch and the afternoon will be the time to return to Minca.
Day 6: Continue to Tayrona
From Minca you can negotiate a car with a local driver to bring you to Taganga (around 40 000 COP). From there you can hop on a boat (1-hour ride) that goes directly to the Tayrona National Park. It is a bit expensive (45 000 COP per pers.) but saves you a lot of time. Unfortunately I can't say that you will enjoy the ride after the first 20 minutes. It shakes A LOT.
When disembarking at the beach of San Juan del Guia, the park staff will collect the entrance fee (students get a huge discount and pay 7 100 instead of 25 000 COP so bring your card if you still have a valid one). Now is the time to enjoy the world famous Caribbean Sea. It's like being in a postcard and it is such a great destination to end the trip. One night in a hammock will cost 20 000 COP and really is something you should try in your life.
Day 7: Tayrona and head back to Cartagena
This park has a very laidback atmosphere, almost hippy sometimes. In the busy season (Dec-Feb) expect to find a lot of tourists (backpackers and Colombians) as this is a well-known highlight of the Northern coast of Colombia.
Depending on the time of your flight the next day, you can either choose to spend a second night or return to Cartagena. From San Juan del Guia, it will take about an hour and a half to reach the park entrance, where you can take a taxi to head back to the bus terminal in Santa Marta (about 40 000 COP, or close to 4 000 if you take a public bus).
Day 8: return home 
The airport is fairly close to the city centre (15-20min; 17 000 COP), so you may be able to spend a bit of time in Cartagena before catching your return flight.
Tips & advice
Don't let your friends and family talk you out of exploring Colombia (they might try!). As mentioned, safety must be taken seriously but with common sense and precautions, you will be fine travelling in Colombia.
If possible, leave yourself some flexibility and don't book your accommodation for a night or two. You never know, you might want to stay longer or shorter in one of the places you plan to visit. (I am thinking Tayrona here!)
Eat in the streets. Arepas de huevos (sort of fried tortillas stuffed with an egg) are the perfect snack. Get it with a fresh exotic juice (maracuya, lulo, etc.) and you've got yourself a great lunch.
If you plan on buying your souvenir aguardiente (the local alcohol) at Cartagena airport (to avoid carrying a bottle with you during the trip), keep some cash because the only store selling aguardiente doesn't take credit cards. ¡Salud!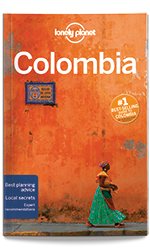 You may also like: