A landlocked country in the heart of South America, Bolivia does not receive the number of foreign visitors that its astounding natural beauty and fascinating culture deserve. A One Week Adventure to this underappreciated South American nation will give you a chance to uncover colonial history in its UNESCO World Heritage recognised cities, or encounter its rich tapestry of impressive landscapes.
3 Reasons to go
The countryside: From the humid depths of barely explored jungle, to the overwhelming heights of 6,000m mountains, Bolivia offers visitors a wealth of experiences and stunning natural sights. This country is a nature-lover's paradise, and if you want to see thousands of flamingos, a trip to El Salar de Uyuni is not to be missed.
The history: Learn about the Spanish conquistadores who came to South America in the 1400s by visiting and admiring the now decaying wealth of Bolivia's colonial cities, Sucre and Potosi. What makes Bolivia's history so interesting is that despite the events of the past 500 years, indigenous traditions can still be observed throughout the country in the multi-coloured clothing, and the intriguing customs of people in the altiplano (areas of higher altitude).
Its energy and unexpectedness: At times, Bolivia doesn't make an awful lot of sense (the traffic, for example), but this is all part of the country's charm. It doesn't live by the same rules as other, more developed South American countries. This might seem overwhelming to some travellers at first, but embracing Bolivia's energy and free-spiritedness will make your visit all the more rewarding.
Destinations
Destination A: Sucre
A colonial city, Sucre offers stunning and accessible nearby scenery, beautiful burnt-umber colonial buildings and a plethora of museums detailing Bolivian's indigenous history. It's a must for any visit.
Destination B: Uyuni and El Salar
One of the most visited stops on Bolivia's underdeveloped tourist trail, El Salar de Uyuni is 10,500 sq km of crisp, white salt plains. Take a tour and enjoy the fun of photographing yourself in hilarious perspective shots thanks to this strange, seemingly-unending white landscape.
Destination C: La Paz
Manic at times, but well worth a visit, La Paz is the highest capital city in the world at 4,000, lung-destroying metres. Engage with local people, discover trendy restaurants and bars and take a cable car up to the very top of the city for mind-blowing views.
How to book your vacation?
If you enjoy organizing your own trips.
Start booking hotels:


Itinerary
Day 1: Arrive into Sucre via Santa Cruz de la Sierra
In the humid east of the country, Santa Cruz de la Sierra is the most modern city in Bolivia and although many enjoy a stop here thanks to its decidedly European nature, take a flight directly to Sucre, the capital of Bolivia for a more cultural experience.
Flights from Santa Cruz Viru Viru airport to Sucre will generally cost around 290 bolivianos ($43 USD). International flights often land in La Paz in the north of Bolivia, but a word of warning: at 4,000m, El Alto International Airport is not a good destination to arrive for those coming from lower altitudes.
Day 2-3: Sucre
At 2,400m in altitude, Sucre is a gentle introduction to high altitude travelling, and its stunning colonial buildings, leafy central square, Plaza 25 de Mayo, and range of restaurants and bars make it comfortable and relaxing place to spend your first few days in Bolivia.
If you're feeling active, visit Parque Cretácico, home to the world's largest collection of dinosaur footprints, or take a one-day tour with a local company along a section of Inca Trail in nearby Maragua.
To reach your next destination, Uyuni, take a night bus from the bus terminal (9 hours, 60bs, $8 USD) and get ready for your trip to El Salar de Uyuni.
Day 4-6 – El Salar de Uyuni tour
The biggest salt flats in the world, El Salar de Uyuni is an unmissable experience in Bolivia. Tours from Uyuni can last between one to three days, and will include a visit to the salt flats, and, with the longer tours, the whole circuit including Laguna Colorada, Sol de Mañana and Laguna Verde.
You'll finish your tour in the early afternoon, leaving you plenty of time to organise a bus onwards to La Paz (10-12 hours, 100-200bs, $15-$29 USD).
Day 7: La Paz
A buzzing city combining traditional Bolivian culture and modern, European elements, La Paz is an interesting final stop on your One Week Adventure.
Visit some of its museums – covering everything from Bolivian musical instruments through the ages to an exhibition about Bolivia's national plant, the coca leaf – and, if you're feeling brave, experience life as a local by eating lunch in the top floor of one of its many markets.
Day 8: Leave Bolivia
Take a flight back home from El Alto International Airport, accessible by minibus from the main street, El Prado for around 3bs (50 cents) or a taxi for 60bs ($9 USD).
Tips & advice
Altitude can make you seriously ill, and the only cure is to descend to a lower altitude. You can manage the effects of altitude sickness by drinking lots of water, not physically exerting yourself too much and by trying out coca tea – the national drink. Before leaving for Bolivia, visit a doctor and ask to be prescribed altitude tablets as many find these useful in managing the effects of altitude.
Few local people outside of the tourism industry speak much (if any) English, so don't be surprised if you have problems in shops of local markets armed only with English words. Buy a phrase book and make a real effort to speak in Spanish: the local people will be impressed and much more helpful!
Water is not safe to drink anywhere in Bolivia. Street food can often cause cases of Montezuma's revenge, so steer clear of any food that doesn't look like it has been well-prepared.
You cannot get hold of the national currency, Bolivianos, outside of Bolivia. Bring dollars with you that can be exchanged, or an international credit card that should work in most banks.
Taxis in La Paz are notoriously dangerous, so make sure you ask your hostel or hotel to ring you a radio taxi to take you to the airport or around the city.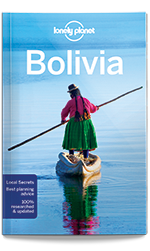 Author
Steph Dyson is a former English teacher from the UK who left her classroom in 2014 to travel and volunteer in South America. She spent 11 months living in Bolivia, before heading to Peru to continue working for educational charities and writing about her experiences. A volunteering and adventure travel enthusiast, she writes about how others can Travel Adventurously, and Volunteer Meaningfully at Worldly Adventurer.
Follow her on:

Photo credit: Steph Dyson